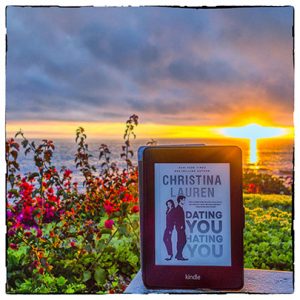 Title: Dating You/Hating You
Author: Christina Lauren
Pages: 368
Publication Day: June 6th, 2017
Publisher: Gallery Books
Format: eBook
Synopsis:
Despite the odds against them from an embarrassing meet-awkward at a mutual friend's Halloween party, Carter and Evie immediately hit it off. Even the realization that they're both high-powered agents at competing firms in Hollywood isn't enough to squash the fire.
But when their two agencies merge—causing the pair to vie for the same position—all bets are off. What could have been a beautiful, blossoming romance turns into an all-out war of sabotage. Carter and Evie are both thirtysomething professionals—so why can't they act like it?
Can Carter stop trying to please everyone and see how their mutual boss is really playing the game? Can Evie put aside her competitive nature long enough to figure out what she really wants in life? Can their actor clients just be something close to human? Whether these two Hollywood love/hatebirds get the storybook Hollywood ending or just a dramedy of epic proportions, you will get to enjoy Christina Lauren's heartfelt, raucous, and hilarious romance style at its finest.
Booktimistic Star Rating: ⭐⭐⭐⭐
Review:
Dating You Hating You was my first book by the amazing duo Christina Lauren and I think I have found a new favorite contemporary author, or should I say authors. Sweet, sexy and just the right amount of snarky, Dating You Hating You is an entertainingly addictive standalone romance. Full of witty banter, snappy comebacks and a delicious chemistry between the two lead characters, this was truly a fantastic read.
Being a high-powered agent at one of the most prestigious Hollywood firm is no piece of cake. The hours are crazy, the pressure always overwhelming and the clients are, well, as demanding as they come. Evie and Carter are both successful agents at two such competing Hollywood firms. When a mutual friend sets them up at a Halloween party, in spite of being a bit embarrassed with the situation at first, they both hit it off. But, with an interesting twist of fate, their two companies merge and Evie and Carter find themselves competing for the same position. What might have blossomed into a beautiful romance turns out to be an ugly war of sabotage, competition and some hilarious pranks.
Simply put, Evelyn Abbey is my former almost-girlfriend-turned-archnemesis-turned-tentative-ally whom I would now very much like to permanently seduce.
The writing style is flawless and Christina Lauren does wonders with the witty, kickass dialogues, perfectly balancing the emotional and the funny. Evie is such a wonderful heroine, feisty and grounded, confident yet not conceited and like a person you can be friends with in real life. Carter is the ideal hero, easygoing, charming and charismatic, outright approachable with an admirable sense of humor, not the arrogant, rude and domineering alpha male that we see mostly featuring in romance novels. Along with these two, the supporting characters were incredibly drawn and a special shoutout to the fabulous girl-gang. Beneath all the light entertainment and delightful romantic tension, this story also covers a serious social issue of sexism at work and the struggles that modern women face in the corporate world compared to their male counterpart.
A delectable mix of amusing banter, effortless humor, sizzling chemistry and delicious tension, Dating You Hating You is pure entertainment and a joyful read. For all rom-com lovers, this one is not to be missed. I wish it gets made into a movie and can only imagine it to be one of those laughing-out-throughout kind.